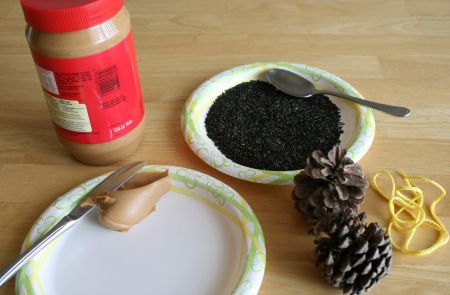 Image from MakeandTakes.com
This is a classic activity to do with your preschooler. It is messy and lots of fun. Using a pine cone, some string, peanut butter and bird seed, you can create a bird feeder the birds will flock to. Tie the string on to the pine cone first, then slather the pine cone with peanut butter. Roll the pine cone in bird seed and you are done! Hang up in location you can see from a window.
If your child is allergic to peanuts, solid shortening can be substituted. Also check your bird seed to make sure it doesn't contain peanuts.
Another fun bird feeder to make that reuses material, is a water bottle bird feeder. You need a water bottle, scissors, pencils or spoons and bird seed.
Image from saavyhousekeeping.com
Poke holes in water bottle where the pencil or spoon will go through. Then you need to cut a small hole above that one so the birds can perch on the pencil and reach in to get seeds. You can cut one set of holes or two as shown in the picture above. Once you have your holes cut, add your pencils or spoons and fill with seed.
What birds come to your feeder? The more mixed your seed, the greater the mix of birds. I refilled my bird feeder this morning and it took a male and female cardinal less than two minutes to come to the feeder.