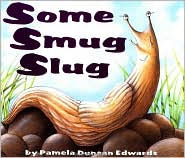 Some Smug Slug
is one of my very favorite books - ever. I cannot praise the author and illustrator, Pamela Duncan Edwards, enough. This book has amazing pictures that are accurately drawn, the words are delicious, and the suspense is great.
And what does this have to do with Bullfrogs, I hear you asking? That, my dear reader, is part of the suspense.
Look for the letter S on every page. All the animals depicted begin with the letter S except one.
Go. Now. Get this book.
5 out of 5 stars.