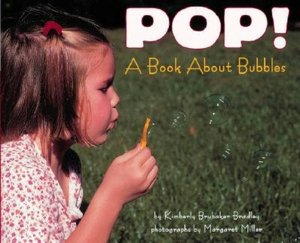 Pop!: A Book about Bubbles
by
Kimberly Brubaker Bradley is a fun book with great photos of bubbles, ideas for playing with the science of bubble and includes a recipe for homemade bubbles.
I do like my non fiction books to have photos and these are really pretty. Ok, now that is exactly the most scientific description but honestly bubbles fascinate scientists for many of the same reasons they fascinate preschoolers - the are fun and cool to play with - so please forgive my rather casual, and totally preschoolish, love of bubbles!
This book was good and solid but didn't transport me into joyful dancing or leave me breathless so 4 out of 5 stars.
Go visit your library to check this book out!